Cahiague, a Huron-Wendat village
Guided by the Huron or Wendat, Champlain canoed to southern Georgian Bay by way of the Ottawa and French rivers, intending to extend alliances with First Nations, establish trade connections and inculcate Christianity.
In his extensive journals he writes about a dozen villages he visited, including Cahiague, a major settlement of 200 long houses inside a protective wooden palisade that was home to as many as 5,000 people.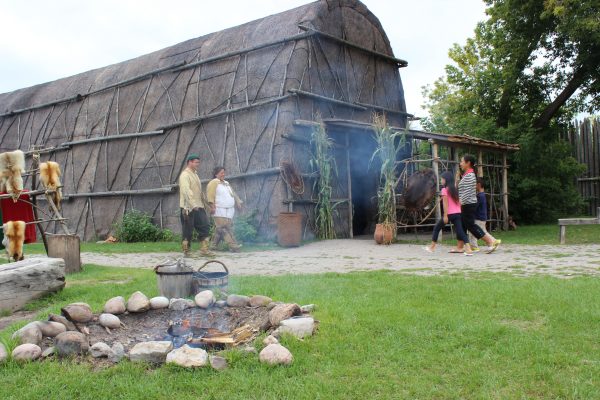 It was here that Champlain and the Wendat planned to launch a surprise attack on the stronghold of their Iroquois enemies in what is now upstate New York. And it was to Cahiague that Champlain, wounded in one leg during the ill-fated assault, returned to recover his strength during the winter of 1615-16.
CAHIAGUE LOCATION UNCERTAIN
A site near Warminster, where archaeologists found the remains of a large village in 1947, has been considered in some quarters to be Cahiague and a provincial historical plaque, erected in the 1960s, bestowed that identity on the site.
But there are counter arguments suggesting the main Huron village was closer to Bass Lake, said Raynor.
"Cahiague is one I'd really like to nail down."
There are remnants of close to 600 native settlements in the sweep of rolling hills, streams and woodlands between Lake Couchiching and southern Georgian Bay, said Raynor.
"The villages moved every number of years as they exhausted the soil and stripped the wood,"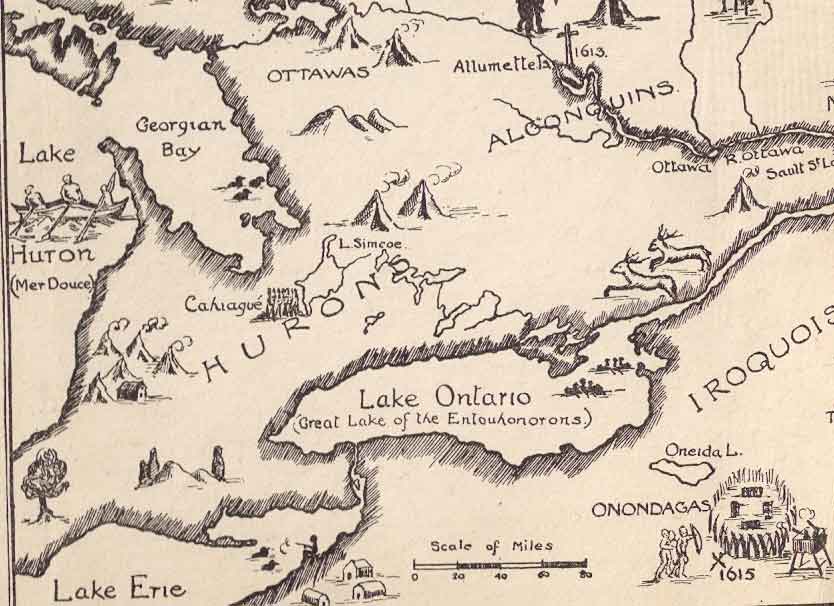 The dozen villages that Champlain visited were perhaps half the number that existed at any one time, Raynor believes, but locating any one with certainty will be a challenge.
Although Champlain was a cartographer and keen observer, he was somewhat casual in mapping his overland journey in this area. And his measurement of distance was very inexact, since the unit used — the league — was imprecise, having two or three different values in the neighbourhood of three miles.
"A league may have just been the distance walked in an hour," said Raynor.
A century ago, historian Andrew Hunter identified the sites of 32 aboriginal villages in the Orillia area alone.
Source: Exerpt from the article "Huronia Museum aims to map out Champlain's route and create series of walking tours" by Colin McKim (The Packet and Times, October 1, 2008)
Champlain's Travel in Huronia Aug-Sept 1615 (in Champlain's own words)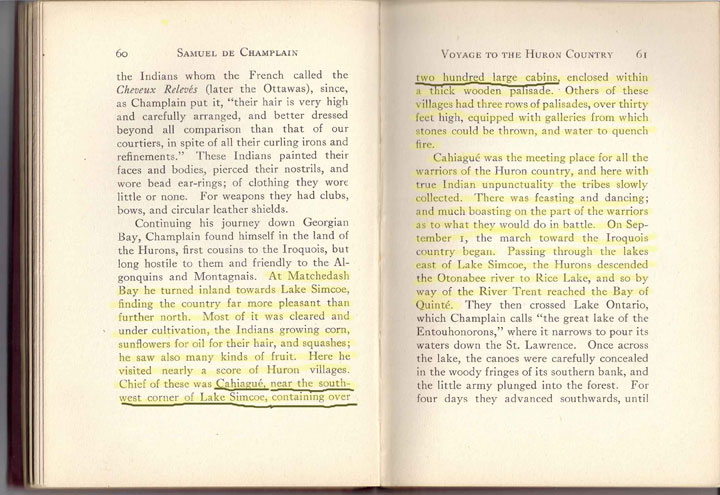 […] Finding that they were so slow in assembling their army, and that I should have time to visit their country, I resolved to go by short days' journeys from village to village as far as Cahiagué, where the rendezvous of theentire army was to be, and which was fourteen leagues distant from Carhagouha, from which village I set out on the fourteenth of August (1615) with ten of my companions. I visited five of the more important villages, which were enclosed with palisades of wood, and reached Cahiagué, the principal village of the country, where there were two hundred large cabins and where all the men of war were to assemble. Now in all these villages they received us very courteously with their simple welcome. All the country where I went contains some twenty to thirty leagues, is very fine, and situated in latitude 44° 30′. It is very extensively cleared up..
The greater portion of our men having assembled, we set out from the village on the first day of September (1615) and passed along the shore of a small lake, [139] distant three leagues from the village, where they catch large quantities of fish, which they preserve for the winter. There is another lake, [140] closely adjoining, which is twenty-five leagues in circuit, and slows into the small one by a strait, where the above mentioned extensive fishing is carried on. This is done by means of a large number of stakes which almost close the strait, only some little openings being left where they place their nets, in which the fish are caught. These two lakes dischargeinto the Mer Douce. We remained some time in this place to await the rest of our savages.
Source: Excerpt from the article by John Raynor, published June 1st, 2006 (Huronia Chapter – Ontario Archaeological Society)
Conrad Heidenreich on Champlain in Huronia
At the OAS Huronia Chapter meeting in September 2010, Professor Conrad Heidenreich spoke to some twenty interested parties about Champlain's visit to Huronia and the location of the villages he visited including Cahiague.
Heidenreich went on to review the days of travel and villages visited in Champlain's account.  He spoke about what we can glean from Sagard's account.  He also addressed the Jesuit reports of villages (they make no mention of Cahiague).
Heidenreich then reviewed the descriptions of Cahiague in Champlain and in Sagard, linguistic analysis of the name, and stated that he remains convinced that the Warminster site is Cahiague.
Source: Excerpt from the article by William Gibson, published on December 14th, 2010 (Huronia Chapter – Ontario Archaeological Society)
For more information on research regarding the Cahiague site: "Is The Warminster Site Champlain's Cahiagué?" by William R. Fitzgerald (Ontario Archaeology 45:3-7, 1986)