Carhagouha – 1615 site of first Mass in Ontario
Carhagouha is the site of the first mass in Upper Canada, celebrated in Ontario by Father Joseph LeCaron in the presence of Samuel Champlain, which took place on August 12, 1615.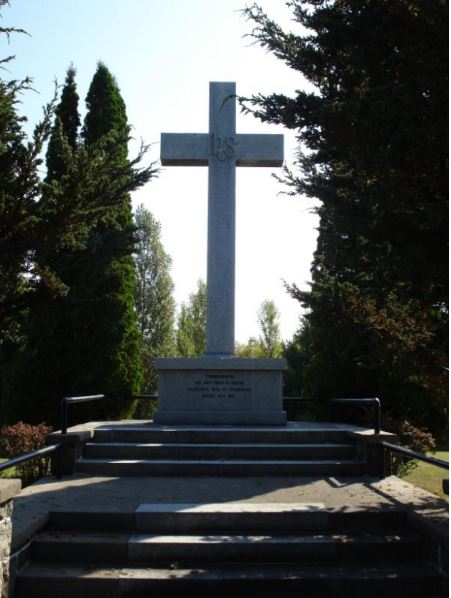 The site is believed to be located just west of the village of Lafontaine on Concession 18 in Tiny Township. It can be found where Cedar Point meets Concession 18, a bit further south about a kilometer on a dirt road, behind a growth of evergreens. There are two crosses that mark this site. The first mass here was conducted by father Joseph le Caron. French explorer Samuel de Champlain was present at the mass with 14 Frenchmen, as well as a number of Wendat people (called the Huron by the French).
Until recently, a mass was held annually at this site to commemorate the first mass.
At the Carhagouha site, the land is found covered with grass with a dirt path surrounding it. At the east end of the grass a cement pad is found, where the mass was conducted. There are two crosses at Carhagouha. On the cement pad is a large cement cross that was erected by the Knights of Columbus of Ontario. Off to the side a simple wooden cross is found.
What does Carhagouha mean? (wendat village location, Huron village site)
The most common current spelling for this village of Champlain is as used in the title of this post "Carhagouha" however as with almost ever other village name there are numerous alternate spellings found in both primary source documents such as Champlain, Sagard and the Jesuit Relations and still other spellings found in secondary source and scholarly texts.Some of the spellings that I have found so far are: Carhagouha, Garhagouha, Karhahaonha and Carragougha.
It must be remembered that these names were recorded by people of various linguistic backgrounds from numerous oral sources with differed dialects that were then interpreted phonetically into the language of the listener. The Wendat language had no written text to compare these interpretations to and is only recently being reconstructed by a few scholars into a written format for use today. Some scholars and others have suggested that th ese village names may indicate a location or provided geographic/pictorial description of the village location while other suggest that they were named after a chief or other prominent person in the community.Here are a couple of translations or interpretations for these name that I have found so far:
The Great forest encircled town – the great palisaded fortress (A E Jones in Old Huronia -1908)
Where there are elms (John Steckley in Words of the Huron – 2007)
Source: John Raynor, Huronia Chapter – Ontario Archaeological Society