Casselman was the first train stop between Ottawa and Montreal. A great railway history that facilitated many business transactions along the railway line. The Cassel microbrewery, founded in 2012, is located right in front of the village's train station.
At Cassel we follow our own path, and venture off the beaten track. Like the train, we are mobilized and determined. If, in times past, beer arrived in Casselman by train, since 2012, we have been the departure station. Cassel: founded for the beer itself.
We are the crossroads between pleasure and production. Cassel is, without boasting, the inclusive and loco-motivating brewery. We are proud of our hometown's francophone roots. We quench the thirst on the cultural scene. We are the liver and kidneys, meaning the heart of the celebration.
Cassel, a warm atmosphere for a refreshing beer.
Group or individual visits are available, just book! It is always fascinating to see how these craft beers are made.
Come and enjoy a beer or two with us!
Informations: microcassel.ca
Casselman
The Settlement of Casselman
The history of Casselman starts with the arrival of Martin Casselman and his development projects for the region. Casselman is a Loyalist descendant and native of Williamsburg. During a hunting trip on the shores of the Little Nation River (aka: South Indian River) in 1832, he envisioned the establishment of a village where he could exploit the abundant forest resources in order to set up a lumber business.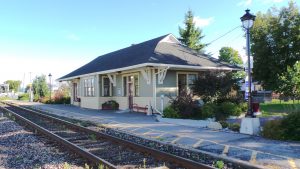 In 1843, he bought an immense territory, covering a large part of the future township of Cambridge at a surprisingly small cost, from the Jessup family. He became the owner of 1,600 acres of land on each side of the Little Nation River. It was on the banks of this watercourse, near a waterfall, that Martin Casselman finally came to settle in 1844. He brought with him 40 men who helped him set-up his lumber business, in return for a promise to sell each of them a piece of land at a very low price. A dam and sawmill were constructed in 1844 and his lumber business was launched.
The Railroad and Train Station
The first railroad going through Casselman was inaugurated on February 1, 1882. It was one of the principal ways of transporting wood, bricks and the food products necessary to the population. During the First World War (1914-1918), this rail line was used for the transportation of wheat and other goods for export.
The railroad that made the Montreal-Toronto connection was built in 1856. Later, the Coteau Junction-Casselman-Ottawa connection was added to the Trans-Continental railway. The first train that traveled the 3,205 miles between Quebec City and Vancouver passed through Casselman in 1915.
French-speaking population: 2,600
Source: Municipality of Casselman
Referred to as 'Ottawa's Backyard', The United Counties of Prescott & Russell is an amalgamation of two counties east of the national capital. Agrarian countryside unfolds as you wind down picturesque rural roads that connect some of Ontario's oldest and most storied towns and villages.
Prescott & Russell is close enough to the city to be super convenient for a short getaway, but the serene landscape, welcoming locals, country shops and bilingual culture make you feel like you're a world away.
To learn more about all there is to see and do in Prescott & Russell, visit the city's tourism website.
For more resources on Francophone Experiences, visit DestinationOntario.com.
Ontario Travel Information Services
For more general tourism information or to plan your visit, please call to speak with a Travel Counsellor at 1-800-668-2746 (1-800-ONTARIO). Travel Counsellors are available to speak with you in either English or French.
Book an appointment with a Travel Counsellor or send an Email  at travelinfo@ontario.ca with your Ontario travel questions.