Étienne Brûlé Historical Plaque – Awenda Provincial Park

Explorer in training
Brûlé was the protégé of Samuel de Champlain, the granddaddy of all French explorers. He who chose to leave the relative safety and familiarity of Quebec after two years of residence to blaze a trail of his own and live in a land no European had ever set foot on.
Champlain, the founder of New France, hoped Brûlé would explore the land first-hand, learn the culture and language of the indigenous people and possibly identify a new trade route to China.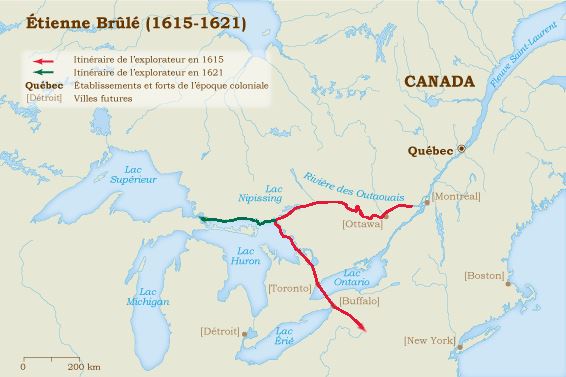 "Brûlé played a significant role during the time he spent at what is now Awenda Provincial Park," says Tim Tully, Natural Heritage Education Leader at Awenda. "And although his life eventually came to a tragic end, he was able to immerse himself fully in the lifestyle, cultural traditions, language and heritage of the Wendat [Huron] people more than four centuries ago. His presence marked the first time European explorers had ever set foot in Ontario and his interactions and life among the Wendat is a very important part of Canadian and Ontario history."
Brûlé's footprint at Awenda
In his enthusiasm to live among the Wendat, Brûlé went full boar, becoming fluent in Wendat, wearing traditional native dress and blending in with Wendat society in a way his mentor, Champlain could not.
His circumstances found him in the land of the Wendat nation by 1610 which is located between present-day Lake Simcoe and Georgian Bay. He lived in the Wendat village of Toanché, which some experts agree is likely a part of what is now Awenda Provincial Park.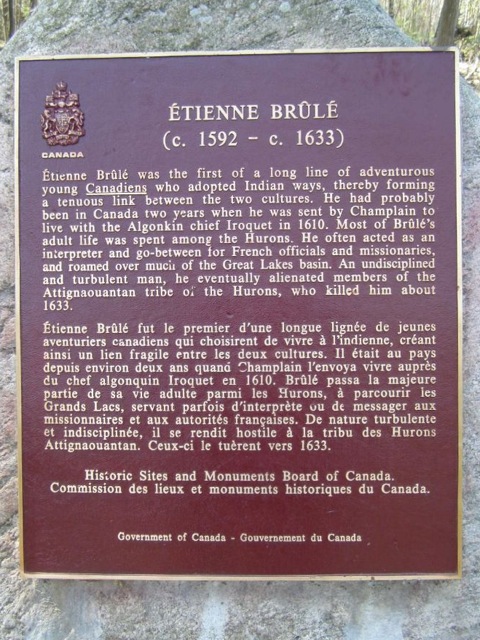 Additionally, Brûlé often acted as a mediator and interpreter for French officials and missionaries and travelled over much of the Great Lakes basin in attempts to encourage the fledgling fur trade.
Brûlé's road to ruins
Known as a spirited and adventurous young man, Brûlé joined Champlain in an expedition to shore up support for the Wendat against the Haudenosaunee (Iroquois) in 1615.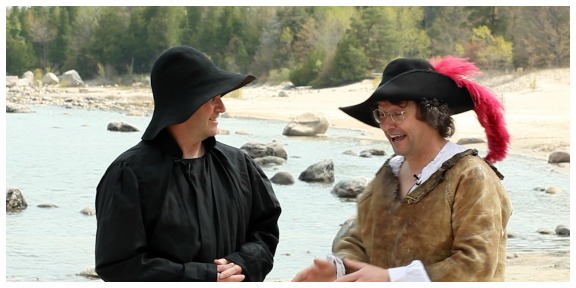 Tensions over the profitable fur trade were high between the Wendat and the Haudenosaunee, so in an attempt to reinforce the Wendat, Champlain travelled to Wendake to rally a war party against their enemies. Four hundred years ago Champlain's mission saw him land at a village he called Otouacha. Academics have concluded Otouacha and Toanché are one and the same village so Champlain likely landed on an Awenda beach. He met 'his lad' Brûlé who then volunteered to travel with 12 Wendat to try to entice their Susquehannah allies to join the fight.
After travelling south of Lake Ontario, Brûlé headed to an Onondaga village to rendez-vous with Wendat warriors only to find a deserted battlefield. The Wendat had already been defeated and left.
A tenacious young man
Taking advantage of his ill-timed luck, Brûlé set out with the Susquehannah and travelled deep into their territory to become the first European to reach Chesapeake Bay on the Atlantic coast. Upon his return to Wendat territory, Brûlé was captured and tortured by the Haudenosaunee yet he managed to escape.
Although he went on to discover more of what is now Ontario (he was the first European to discover at least three and possibly all five of the Great Lakes), he became somewhat of a businessman despite his illiteracy. He profited from dealings with merchants by encouraging trade with the Wendat.
All seemed well for Brûlé, except he deserted Champlain in favour of helping the English capture Quebec. When Champlain returned to the area in 1633, he discovered Brûlé had been murdered by the Wendat for reasons that are still unknown.
It is thought Brûlé was murdered somewhere within the land that is now Awenda Provincial Park. His remains are thought to be buried somewhere in the park, although there has never been any physical proof.
The Wendat Bear tribe had abandoned Toanché, claiming their adversities were a direct result of Brûlé's murder, which changed nothing for the tribe.
Gone without a trace
To this day, there are no physical traces of Brûlé and his life among the Wendat people at Awenda. Although numerous Wendat artifacts have been excavated in park studies over the years and remain in storage in the Ontario provincial artifact repository.
Interestingly enough, Awenda was to be called Étienne Brûlé Provincial Park in 1975, however the Brûlé name was considered too controversial at the time. In 1988 Brûlé was finally recognized with a Historic Sites and Monument Board of Canada plaque now on Awenda's First Beach.
Today, more than 600,000 Francophones live in Ontario. This is the largest French-speaking community in Canada outside of Quebec.
Source: Excerpt from the Ontario Park Blog article, "Remembering French explorer Étienne Brûlé" (2015)
Recognition of Heritage and French Cultural Identity in Ontario
Brûlé is presented from different angles by historians. However, beyond formal history, he has developed a following that considers him as a hero from New France. This is especially the case of French-speaking Ontario. It is a fairly recent development, which demonstrates the importance he is given in amateur publications. For example, the Toronto Historical Society produced a comic strip in which he figures as the main character * and the Féderation de la Jeunesse Franco-Ontarienne FEFSO [Franco-Ontarian Youth Federation] also gives a positive spin on Brulé in a publication called Notre Histoire * , in which he is presented as the first Franco-Ontarian. On the province's web site, he was, until recently, presented as a hero *.
Upon verification, it was discovered that the section in which he appeared was formerly called the Annuaire des Célébrités Ontariennes [List of Famous Ontarians] *.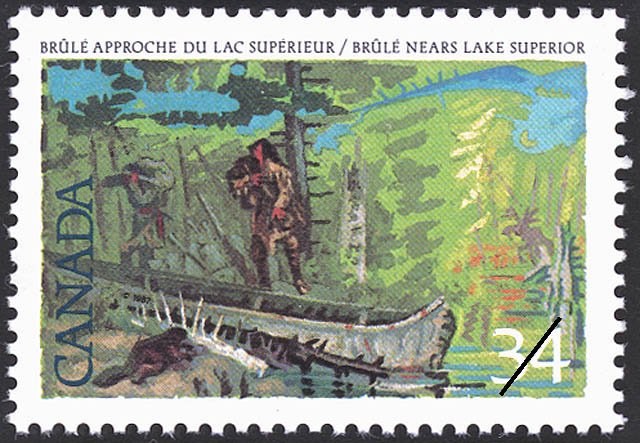 Brûlé's importance for Ontario is also reflected in the names of various buildings. His name appears in the names of three schools in the province, including one French-language school. The École Secondaire Étienne Brûlé of North York, founded in 1969, was the first French-language secondary school in the Greater Toronto Area. Étienne Brûlé Junior High School of Etobicoke and Étienne Brûlé Public School of Sault-Ste-Marie are English-language schools. There is also a park named after him in Toronto as well as an observation point in Parc de la Gatineau.
Whether he should simply be considered a French historical figure or as the first Franco-Ontarian, his significance has evolved as the social context and customs have changed over the years. What is particularly important for Franco-Ontarians is the 1610 date of Brûlé's first visit to the territory that is now known as the Province of Ontario. Furthermore, the fact that various educational institutions are named after him shows just how much the societal norms of French Canadians have changed over time. In the 19th century, the accepted code of conduct closely followed well-established norms established by the Church of Rome. The fact that he was a Frenchmen who had decided to live like one of the natives was not well received among his own people. Thus, he was described as a "vicious individual with a weakness for women" and as someone who betrayed France to help England. Consequently, it was difficult to consider him worthy of a hero status. However, considering the same facts today, Brûlé is now considered as being adventurous, courageous and audacious if not even "noble".
* For more informations on references mentionned above. click here.
Source : Encylcopedia of French Cultural Heritage in North America, 2007 – Excerpt from the article "Étienne Brûlé, The First Franco-Ontarian" by Stéphanie St-Pierre