École de la Résistance – Permanent Exhibit
École de la Résistance
On September 3, 2019, La Clé, an organization serving Francophones in Simcoe County, opened a new permanent exhibit at its head office in Penetanguishene to mark the 40th anniversary of a key event in the struggle for French-language education in Ontario.
It was on September 3, 1979 that the Francophone community of Penetanguishene opened the École secondaire de la Huronie, an illegal secondary school with 54 students, which became known as the école de la resistance.
This act of resistance sparked what became known as the Penetang school crisis of 1979-1980, which led to victory for Penetanguishene's Francophone community and the opening of a precedent-setting French-language secondary school in that city in 1982.
This exhibit, mounted in the same rooms that the school occupied at the time, commemorates this epic struggle that mobilized the entire Franco-Ontarian community and pays tribute to the students, parents and other activists who took part in it.
You are invited to relive this history by visiting this exhibit on the 3rd floor of La Clé's head office at 63 Main Street in Penetanguishene. The exhibit consists of:
one room displaying 10 enlarged historic photos of 10 key moments in this struggle, with explanatory texts;
another room displaying 10 artifacts from the school and the crisis, along with over 200 photos, plus videos and stories that you can watch and read on iPads;
a hallway displaying a historical mural by artist Mique Michelle, with 10 stirring quotations from the period.
What courage all these people showed by supporting the école de la resistance in its fight for French-language education in Ontario!
Limited accessibility (3rd floor, no elevator)
Penetanguishene School Crisis (1979–1980)
Despite the actions of Symons, Welch and Davis, other school crises erupted. In Cornwall, Franco-Ontarian students went on strike in support of demands that the Saint-Laurent Secondary School become exclusively French-speaking. They succeeded, and the new school was named La Citadelle. Other minor school crises occurred in the late 1970s and early 1980s, notably in Geraldton/Longlac, Burlington, Kirkland Lake and Windsor. A major crisis broke out in Penetanguishene during the Québec sovereignty referendum (see Québec Referendum in 1980), and the so-called "Penetang school crisis" drew national attention.
Located on the southeaster shore of Georgian Bay, Penetanguishene had a population of approximately 6,000 in the late 1970s, of whom over 80 per cent were of francophone origin and 40 per cent had French as their mother tongue. Since the Penetanguishene Secondary School was a bilingual institution with an English-speaking culture and did not offer full study programs in French, the French Language Advisory Committeeof the Simcoe School Board asked that a separate school be built. The Board refused the request, along with others submitted by the Committee. With support from the Franco-Ontarian community, Penetanguishene francophones opened a resistance school in 1979.
Penetanguishene therefore became a symbol for the fight to develop Franco-Ontarian culture. The community received support from the leader of the Liberal Party of Canada, Pierre Elliott Trudeau, and the Commissioner of Official Languages. On 12 October 1979, Minister of Education Bette Stephenson refused the request from francophone parents to build a French-language secondary school, stating that it was a decision for the school board to make.
Debate moved to the courts, which ruled in favour of the Penetanguishene Franco-Ontarians. Bill Davis' Conservative government promised to cover 95 per cent of the cost of building a French-language secondary school. It opened in 1982, the year that the Canadian Charter of Rights and Freedoms came into force, and was named École secondaire Le Caron in honour of Friar Joseph Le Caron, who said the first mass in Ontario on 12 August 1615.
Source: The Canadian Encyclopedia
To learn more about the Ontario Schools Question, click here.
ABOUT CHAMPLAIN'S JOURNEY iN HURONIa
Samuel de Champlain crossed through the 30,000 islands in the bay, with their challenging coastlines, but fish-filled waters, until landing on August 1 in Toanché. He was now in Huronia.
He reports finding a vastly different landscape, extremely beautiful and mostly deserted, with lots of hills and streams, all of which made it very appealing.
He spent a month visiting the villages inhabited by approximately 20,000 Wendats. He liked what he saw: agglomerations, villages protected by triple palisades, a well-defined hierarchy, structured trade, hillsides and countrysides, lots of waterways, fruit and corn, beans and pumpkins. The country was inhabitable, and his companion, Joseph Le Caron, lost no time trying to evangelize the people.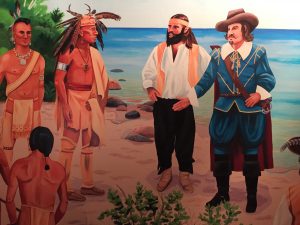 SIMCOE COUNTY
Brûlé, Champlain, Recollects and Jesuits journeyed extensively throughout Simcoe County, a place of remembrance in and of itself. The list of the region's treasures is extensive, from its apple pies to its archaeological and historical sites. The Bay abounds with magnificent beaches, some of the longest freshwater beaches in the world, with the hills offering a panoramic view of that great blue expanse with its turquoise sparkles. Between them lie bike paths and villages with quaint town centres and good restaurants..
DISCOVER SIMCOE COUNTY AND PLAN YOU TRIP!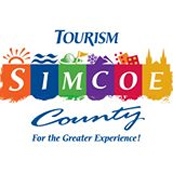 Articles similaires