École de la Résistance – Permanent Exhibit
École de la Résistance
On September 3, 2019, La Clé, an organization serving Francophones in Simcoe County, opened a new permanent exhibit at its head office in Penetanguishene to mark the 40th anniversary of a key event in the struggle for French-language education in Ontario.
It was on September 3, 1979 that the Francophone community of Penetanguishene opened the École secondaire de la Huronie, an illegal secondary school with 54 students, which became known as the école de la resistance.
This act of resistance sparked what became known as the Penetang school crisis of 1979-1980, which led to victory for Penetanguishene's Francophone community and the opening of a precedent-setting French-language secondary school in that city in 1982.
This exhibit, mounted in the same rooms that the school occupied at the time, commemorates this epic struggle that mobilized the entire Franco-Ontarian community and pays tribute to the students, parents and other activists who took part in it.
You are invited to relive this history by visiting this exhibit on the 3rd floor of La Clé's head office at 63 Main Street in Penetanguishene. The exhibit consists of:
one room displaying 10 enlarged historic photos of 10 key moments in this struggle, with explanatory texts;
another room displaying 10 artifacts from the school and the crisis, along with over 200 photos, plus videos and stories that you can watch and read on iPads;
a hallway displaying a historical mural by artist Mique Michelle, with 10 stirring quotations from the period.
What courage all these people showed by supporting the école de la resistance in its fight for French-lan
ABOUT CHAMPLAIN'S JOURNEY iN HURONIa
Samuel de Champlain crossed through the 30,000 islands in the bay, with their challenging coastlines, but fish-filled waters, until landing on August 1 in Toanché. He was now in Huronia.
He reports finding a vastly different landscape, extremely beautiful and mostly deserted, with lots of hills and streams, all of which made it very appealing.
He spent a month visiting the villages inhabited by approximately 20,000 Wendats. He liked what he saw: agglomerations, villages protected by triple palisades, a well-defined hierarchy, structured trade, hillsides and countrysides, lots of waterways, fruit and corn, beans and pumpkins. The country was inhabitable, and his companion, Joseph Le Caron, lost no time trying to evangelize the people.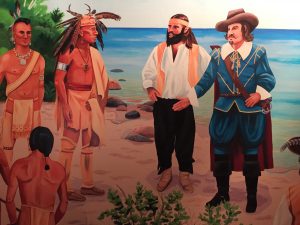 The sister cities of Midland & Penetanguishene form the gateway to the glorious Southern Georgian Bay region, an adventure paradise with clear waters and lush forests connected by an abundance of nature trails.
It is also as rich in human history as it is in natural beauty. People have been attracted to Midland & Penetanguishene for thousands of years. From the Indigenous Huron-Wendat people to today's vibrant French community, visitors will marvel at how Midland and Penetanguishene bring the past to life in the modern age.
To learn more about all there is to see and do in Midland-Penetanguishene, visit the region's tourism website.
For more resources on Francophone Experiences, visit DestinationOntario.com.
Ontario Travel Information Services
For more general tourism information or to plan your visit, please call to speak with a Travel Counsellor at 1-800-668-2746 (1-800-ONTARIO). Travel Counsellors are available to speak with you in either English or French.
Book an appointment with a Travel Counsellor or send an Email  at travelinfo@ontario.ca with your Ontario travel questions.