Canoe Route to the West – Mattawa Historical Plaque

Here, when the canoe was the principal means of travel, explorers, voyageurs, missionaries and others bound for the West, left the Ottawa River and followed the Mattawa River to Lake Nipissing, the French River and the upper Great Lakes. For over 200 years the Mattawa River formed part of the route linking the St. Lawrence River settlements with the vast interior of the continent. Among the historic figures who passed here were: Samuel De Champlain, 1615, Jean Nicolet, 1620, fathers Brébeuf, 1626, and Lalemant, 1648, Radisson and Groseilliers, 1685, La Vérendrye, 1731, Sir Alexander Mackenzie, 1794, and David Thompson, 1812.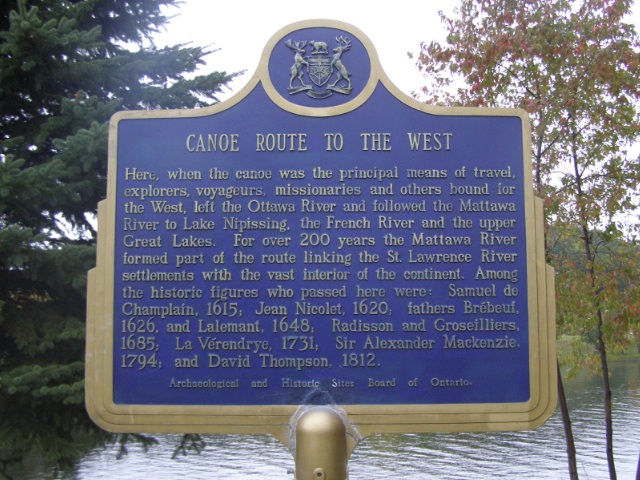 The historical plaque is located on the northwest corner of Main Street (Road 533) and Mattawan Street.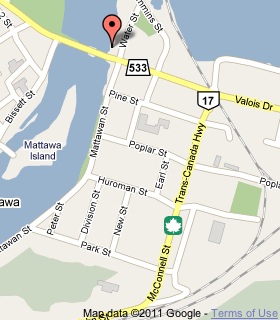 Canadian canoe culture
"If it is love that binds people to places in this nation of rivers and in this river of nations then one enduring expression of that simple truth, is surely the canoe."
— James Raffan, adventurer, acclaimed author and Director Emeritus of the Canadian Canoe Museum
Through the stories of five paddlers across Ontario, "THE CANOE" underscores the strength of the human spirit and how the canoe can be a vessel for creating deep and meaningful connections.
Discover the different ways Ontarians have connected to our natural environment, each other and themselves through paddling. Watch the full documentary here.
Is there anything more Canadian than paddling?
"Ontario" is a Haudenosaunee word meaning "land of shining waters." With over 400,000 lakes, countless rivers and heritage waterways in Ontario, we are connected by and to water, and the canoe is a symbol of that relationship.
Excerpt from Ontario Parks' blog (Full article available here)
THE PATH OF GREY OWL
Re-trace conservationist Grey Owl's path into the legendary Northeastern Ontario's Temagami region – n'Daki Menan Aboriginal community. Experience the Old Growth Forest and beauty that captured Grey Owl's heart, traveling by land, air, and paddle into the heart of Lady Evelyn-Smoothwater Provincial Park. A film by Goh Iromoto.
Courtesy of Ontario Travel (2016)