Le Chenail Cultural Centre / Maison de l'Île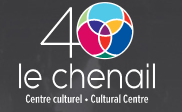 The Centre culturel Le Chenail is a not for profit Francophone organization whose mission is to promote the arts, culture and historical heritage of Maison de l'Ile.
The Centre is astounding and enchanting. It enhances the everyday lives of Hawkesbury's residents with a cultural program lineup that teases the imagination. Its activities stimulate the creativity of people of all ages, encourage people to get involved, and creates connections throughout the community.
Member of:
Discover Prescott-Russel and Plan your trip!
Articles similaires