In 2008, the Poirier family leaves Pincourt, a Montreal suburban town, to settle on a farm in East Hawkesbury, on the limit of the provinces of Ontario and Quebec.
In 2011, the company Les Fruits du Poirier is created. In 2011 and 2012, the farm produced a variety of vegetables to sell at local markets and restaurants. In 2013, as the young farm expands and restructures, it takes the decision to focus on berry production.
In 2014, the farm begins to sell its long-awaited harvest of asparagus, honeyberries and black, red and purple raspberries.
Les fruits du Poirier is a family farm that specializes in growing small berries and prepared directly on site our local products and uses sustainable and organic culture practices.
In season, you can come and pick your favorite berries such as haskap, raspberries, gooseberry, currants, table grapes and nordic kiwi. Come enjoy the experience of preparing your own jams with our chef in our certified kitchen (with reservation).
Please consult our website for the availability of fruits, sessions to cook your jams or guided tour of the farm with tasting products.
A franco-ontarian heritage
Saint-Eugène is a rural, Franco-Ontarian locality situated in the Township of East Hawkesbury in the United Counties of Prescott and Russell in Ontario (Canada). It is on the interprovincial border with Québec, near Highway 417 between Ottawa and Montréal.
The village of Saint-Eugène is located in the St. Lawrence Lowlands. The water for the village is supplied by the Rigaud River, a tributary of the Ottawa River.
Hawkesbury is touted as the third most bilingual town in Ontario, with about 70% of its inhabitants being fluent in English and French, the two official languages of Canada. (Sturgeon Falls is first with 73.4% followed by Hearst at 71%.) 89% of the population is made up of French speaking Franco-Ontarians.
CHAMPLAIN AND THE OTTAWA RIVER
The Ottawa River has made a remarkable contribution to Canadian heritage as a route of European exploration. Beginning in the early 17th century, the French followed its waters on their way deep into North America's interior. Famous French explorers such as Champlain, Brûlé, Vignau, Nicollet, Radisson, Jolliet, Dulhut, De Troyes, and La Vérendrye, as well as British explorers such as Mackenzie and Franklin, canoed the river's waters on many of the most important European voyages of exploration into North America's interior.
The story of European exploration along the Ottawa River can be said to have begun with the vision and efforts of Samuel de Champlain. Geographer, explorer, as well as colonizer and founder of Quebec City, where he carried out most of his works, Champlain was the first to publish maps of the Ottawa River and names of topographic features in the Ottawa region as well as in Hull, Pontiac, and Renfrew counties. By the time he began exploring the Ottawa River in 1611, he had already sailed the St. Lawrence, explored the mouths of the Saguenay and the Richelieu, and founded colonies in Acadia and Quebec.
Although the Ottawa is often called "Champlain's River", Champlain was not in fact the first European to canoe on its waters or to witness its beauties; rather it was Champlain's emissary, Etienne Brûlé, who deserves the credit. Around 1608, Brûlé was the first European to paddle up the Ottawa at the young age of 19. He is known to have made his way to the Georgian Bay via the Mattawa River by 1611, and was the first European to see Lake Huron (Legget 1975: 31). Unfortunately, Brûlé did not leave any written records of this voyage.
Accompanied by Vignau, Champlain himself first ventured along the Ottawa in 1613. He had been planning a trip up the Ottawa River after encountering Brûlé and a group of Hurons and Algonquins near Lachine in 1611. In addition to following up on Vignau's reports of a "Northern Sea", Champlain sought to further extend the French trade in furs already established at Tadoussac, and to learn more about the Ottawa River. Through his thorough written records, we are able to reconstruct his voyages with some accuracy.
The journey was long and arduous. On the way, Champlain nearly lost his life lining his canoe up the Long Sault rapids. With the assistance of additional Algonquin guides, the group traveled along a chain of lakes (via Muskrat Lake) to avoid the most dangerous waters. Champlain, Vignau and the Algonquin guides then went to meet with powerful Algonquin chief Tessoüat at his settlement, probably at Morrison Island (across from today's Pembroke).
Source: The Ottawa River Heritage Designation Project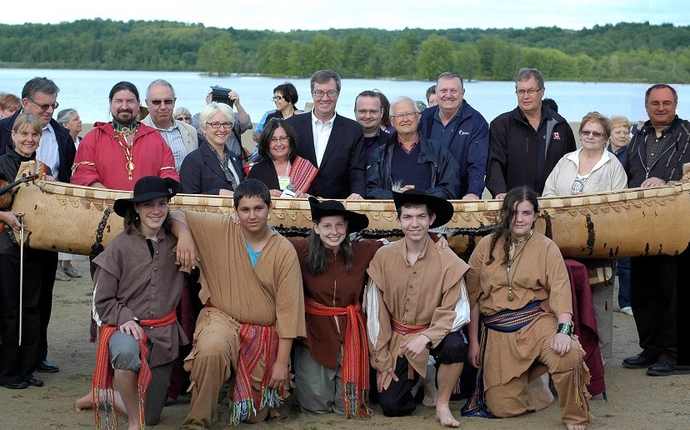 Referred to as 'Ottawa's Backyard', The United Counties of Prescott & Russell is an amalgamation of two counties east of the national capital. Agrarian countryside unfolds as you wind down picturesque rural roads that connect some of Ontario's oldest and most storied towns and villages.
Prescott & Russell is close enough to the city to be super convenient for a short getaway, but the serene landscape, welcoming locals, country shops and bilingual culture make you feel like you're a world away.
To learn more about all there is to see and do in Prescott & Russell, visit the city's tourism website.
Ontario Travel Information Services
For more general tourism information or to plan your visit, please call to speak with a Travel Counsellor at 1-800-668-2746 (1-800-ONTARIO). Travel Counsellors are available to speak with you in either English or French.
Book an appointment with a Travel Counsellor or send an Email  at travelinfo@ontario.ca with your Ontario travel questions.