Monument to Champlain in Orillia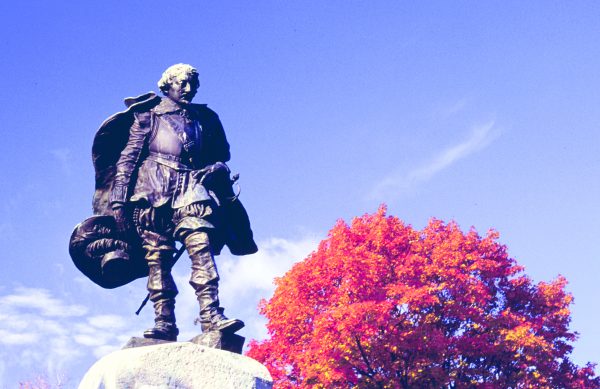 Orillia's Champlain Monument was proposed by Mr. Charles Harold Hale, publisher of the Orillia Packet newspaper and community advocate, following a trip to Quebec and St. John, New Brunswick, where monuments to Champlain also exist in connection to those cities.
The piece was created by Mr. Vernon March of Farnborough, Kent, England, and commissioned to mark the 300th anniversary of the French explorer's arrival to the region in 1615. The work was delayed due to the war, unveiled a decade later on July 1, 1925, in front of roughly 10,000 spectators. Dignitaries included the Honorable Rodolphe Lemieux, Speaker of the House, along with Vernon March, the sculptor, Grand Chief Ovide Sioui of the Hurons at Lorette, now the Huron-Wendat of Wendake, Chief Big Canoe, and John Bigwind of the Chippewas of Rama First Nation.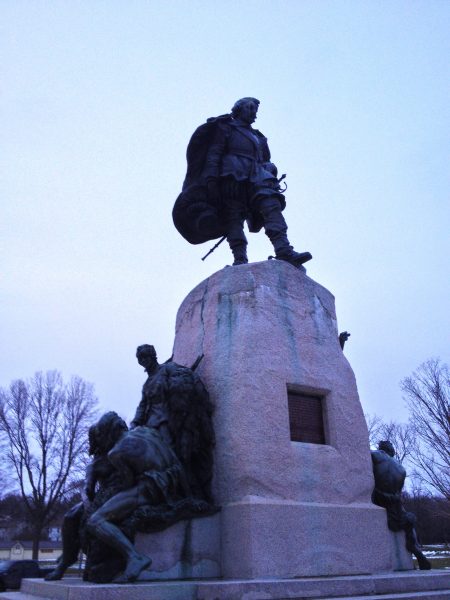 Ownership and maintenance of the monument, together with the area of land 10 feet all around upon which it sits, was transferred to the Department of Northern Affairs and National Resources in 1955.
RESTORATION WORK
In 2015, Parks Canada conducted a full condition assessment on the piece as a result of growing concerns associated with the steps and plinth. The current restoration project is the result of that assessment and includes repairing the staircase and plinth along with conservation work on the statues. Phase 1 and 2 have been completed and Phase 3 is underway. The foundation and staircase have been reconstructed on the original site however, reinstallation of the sculptures has been put on hold.
NEXT STEPS
At its meeting held on July 19, 2018, City Council received correspondence from Parks Canada that the federal agency will be placing the project on hold after receiving concerns over the monument's representations of Indigenous peoples raised by members of the public and by Indigenous communities. They have asked Council to establish a joint working group with key partners and stakeholders to pursue consultations and to develop a plan for the monument and surrounding park lands that presents a balanced and respectful representation both Indigenous and non-Indigenous perspectives.
MONUMENT FACTS
Champlain measures 12ft tall
Champlain is dressed for court, with cloak, long boots, spurs, plumed hat and sword
The plinth is of Benedict Stone, cast in situ, from Montreal and weighed 45 tons
The entire monument weighed over 100 tons
The tomahawk is an exact replica of the one in the British Museum
The piece was budgeted at $20,000 but the delay added $14,000 to the project, primarily due to inflation of the price of bronze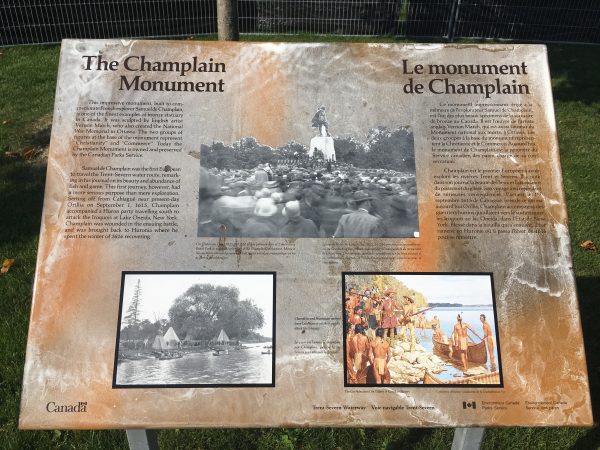 Articles similaires