Paddling the Trent-Severn Waterway

Samuel de Champlain was here in 1615.
Suspend your current reality for a moment; imagine paddling every day was your life (not just a dream that you have to squeeze into vacation days), traveling across a Canada without roads, specifically along Sagetewedgewam (Ojibwa name for the Trent River meaning 'river hard to travel').
This is before the technology of canals and lift locks made the rivers and lakes that make up the 387 km long Trent-Severn Waterway navigable by boat anytime the water is open. Then imagine you come to a fork in the waterway, so to speak,  just west of Little Bobakaijuen (present day Hastings), and you have to choose between one 14.5 km portage or paddle on and risk life and limb, down the multiple sets of rapids and necessary portages around waterfalls over the next 43 km as the waterway drops an impressive 220 feet. You also happen to be travelling with at least 500 other paddlers. The year is 1615, and your name happens to be Samuel de Champlain. What would you do?…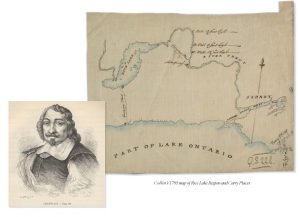 It's still a mystery, but it feels like you can get a lot closer to revealing it as you dip a paddle in along the shores of the Trent River at Percy Reach south of Lock 8. Exploring the mouth of Percy Creek (on the north west shore of the reach) you can further wonder at the likelihood of Champlain and his troops having taken the smaller waterways between Rice Lake and Percy Reach as long as they could, adding time and lift-overs, but amassing fish and game as well to their 39-day journey from Huronia to the Iroquois Fort. 
You can collect your own Sweet Gale for tea, like the First Nations peoples would have done for millenia before as they had been using what is known as the Percy Portage for hundreds of years before Champlain's arrival. 
The waterway has been altered since Champlain's days there. It can be easy to sink in the sadness of a wilderness forever lost, incredible roaring rapids tamed, and the seemingly never-ending list of the pitfalls of human technology and development. Still, there are beautiful reminders of nature's resilience when given the opportunity, and these offer further windows into what the experience of paddling the Trent was like all those hundreds of years ago.
Route Overview
Difficulty: Easy, but be aware and respectful of power boat traffic.
Distance: Approximately 3km round-trip around Percy Boom – but as short or as long as you wish!
Portages: None
Shuttle Info: Round trip – no shuttle required.
Directions: 12 minutes south of Campbellford. Map Link.
Canoe and Kayak Rentals: Campbellford Paddle
Best Time to Go: You'll share the waters with some larger boat traffic when locks are open May to October but this route is always accessible without any portaging if you put in at the boat launch at the lower side of Lock 8.
Explore the Waterways of Northumberland County and paddling routes here.
More on Champlain's Routes:
Northumberland County
Northumberland County is a natural paradise thanks to the unspoiled beauty of this expansive region. Experience the pure beauty of nature when you hike trails in places like Northumberland County Forest. The sparkling beaches found along the shorelines of Lake Ontario is another stunning highlight of this region.
In addition to its idyllic attractions, Northumberland County offers an abundant of educational and unique cultural experiences. Learn about the Mississauga Ojibways' culture and traditions in Alderville First Nation and explore architecture, early settlements and significant historic sites in the region.
To learn more about all there is to see and do here, visit the region's tourism website.
For more resources on Francophone Experiences, visit DestinationOntario.com.
Ontario Travel Information Services
For more general tourism information or to plan your visit, please call to speak with a Travel Counsellor at 1-800-668-2746 (1-800-ONTARIO). Travel Counsellors are available to speak with you in either English or French.
Book an appointment with a Travel Counsellor or send an Email  at travelinfo@ontario.ca with your Ontario travel questions.