POPSILOS
Popsilos is artwork on silos.

Got a few hours? Take a countryside road trip that will put you on a sensory journey through Prescott-Russell. Be in awe of the giant artworks painted on farm silos.
See the glowing fields. Smell the heat burning the long grass. Knock on a few producers' doors to taste the counties.
Video courtesy of ONFR (2017)
Popsilos is artwork on silos
The Popsilos project combines art and agrifood tourism in a circuit that leads to five giant murals celebrating Canada's 150th on farm silos in the Prescott-Russell countryside, interlacing small producers where visitors can discover local produce and products.
Popsilos marries urban and rural
Popsilos is the opportunity for street artists to come together, learn from one another and create a legacy artwork in celebration of Canada's 150th, in Prescott-Russell, while putting the spotlight on agriculture through painting on the most monumental canvas ever, a silo.
Popsilos is a holiday
Growing up in Prescott Russell, we were up at 7 am, ready to venture through the fields and find the day's secret spot. Our imaginations ran wild until we heard our parents' voices calling us in, when rosy skies turned to darker shades of marine and purple.
Visitors' Guide:
Map and information is all online on the popsilos.ca website. Your smart phone will be handy!
Make sure the farmers' properties are open to the public for the time at which you plan to visit. Every site has its own hours of operations. If not, you can view the silo from the roadside.
Respect the signs or barriers set-up by the farmers on their properties where entrance is prohibited. You are responsible for your own safety and security on site.
Be respectful of the environment.
Learn about the artwork online at popsilos.ca.
Wear comfortable shoes suitable to farm grounds!
You may or may not be greeted on site. All depends on the farmers' workday! If they're free, they'll love to chat!
If you plan on visiting certain local artisans or producers identified on the Popsilos map, also check in on the website provided to ensure they are open to visitors at the time you plan to visit.
Share your photos with us on our Facebook page.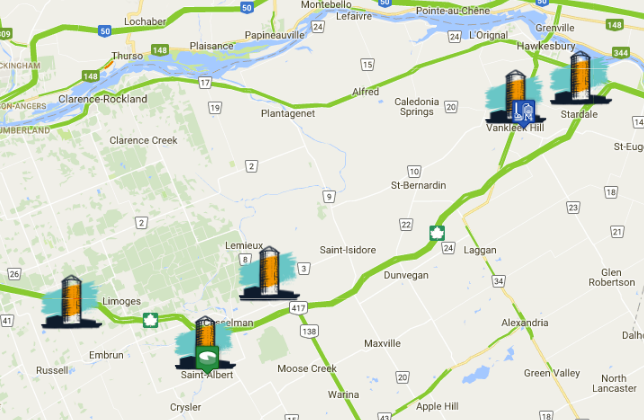 This project is possible with the participation of the government of Canada

Referred to as 'Ottawa's Backyard', The United Counties of Prescott & Russell is an amalgamation of two counties east of the national capital. Agrarian countryside unfolds as you wind down picturesque rural roads that connect some of Ontario's oldest and most storied towns and villages.
Prescott & Russell is close enough to the city to be super convenient for a short getaway, but the serene landscape, welcoming locals, country shops and bilingual culture make you feel like you're a world away.
To learn more about all there is to see and do in Prescott & Russell, visit the city's tourism website.
For more resources on Francophone Experiences, visit DestinationOntario.com.
Ontario Travel Information Services
For more general tourism information or to plan your visit, please call to speak with a Travel Counsellor at 1-800-668-2746 (1-800-ONTARIO). Travel Counsellors are available to speak with you in either English or French.
Book an appointment with a Travel Counsellor or send an Email  at travelinfo@ontario.ca with your Ontario travel questions.