The Canadian Canoe Museum
Discover, Create & Engage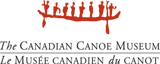 The Canadian Canoe Museum is a unique national heritage centre that explores the canoe's enduring significance to the peoples of Canada, through an exceptional collection of canoes, kayaks and paddled watercraft.
We're an engaging, family-friendly museum with more than 100 canoes and kayaks on display. Visitors will enjoy interactive, hands-on galleries, a scavenger hunt, model canoe building and puppet theatre for children. Through inclusive, memorable and engaging exhibits and programs we share the art, culture, heritage and spirit of paddled watercraft with our communities.
To learn more about this exceptional collection:
Discover Peterborough & The Kawarthas and plan you trip!
Articles similaires