The Canadian Canoe Museum
Discover, Create & Engage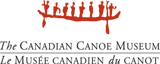 The Canadian Canoe Museum boasts the largest collection of its kind in the world, dedicated to preserve and share the culture and history of the canoe. And the museum also features unique activities and hands-on galleries that make it enjoyable for the entire family.
Located in Peterborough, on Monaghan Road off of Lansdowne Street, the museum is a perfect addition to any itinerary.
For up-to-date information and details on the Canadian Canoe Museum, we recommend you visit their website.
To learn more about this exceptional collection:
Discover Peterborough & The Kawarthas and plan you trip!
Articles similaires