The Canadian Ecology Centre

The Canadian Ecology Centre is a non-profit environmental education and research facility located in Samuel de Champlain Provincial Park. Although we are a separate entity from the park, we do share this beautiful landscape together and the message of conserving and protecting our natural environment.
The CEC facilitates informed choices. We believe in developing a better understanding of conservation and development issues related to the environment and the mining and forestry sectors.
The CEC offers a variety of programs for both youth and adults. We also host family events such as our annual Christmas in the Forest event in December. We can provide meeting space for groups of up to 180 people, catered meals to suit your tastes, accommodations, and programs to enhance your time. Our cabins are also available for your next "glamping" getaway in Samuel de Champlain Provincial Park.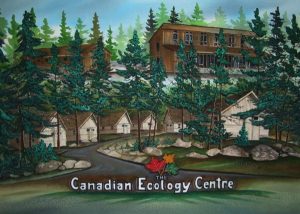 Painting by artist Jack Lockheart, 2003
We have 32 modern and heated cabins. Cabin accommodations are available for individuals or groups looking for a natural destination year round.
Credit: Steve Hayward, www.whitepineproductions.com
Mattawa
Mattawa is a bilingual town in northeastern Ontario, just across the river from the province of Québec. It sits on traditional Algonquin Nation territory – if fact, Mattawa's name means "Meeting of the Waters" in the Algonquin language. The town is located at the confluence of the Ottawa and Mattawa rivers, and is the oldest settlement in the Nipissing District.
The first Europeans to set foot on Mattawa soil were Étienne Brûlé in 1610 and Samuel de Champlain in 1615. Brûlé was only 18 when he camped along its shores, and Champlain spent a few days there while he repaired his canoe. Mattawa's geographic position was of strategic importance to the Europeans – it was along the water route that coureurs des bois and voyageurs would take from Montréal to the western frontier (Lake Superior country) to collect furs. It was said that canoes travelling west up the Ottawa river turned left at "the Forks" (the mouth of the Mattawa) to enter the "Petite Rivière", before making their way to Lake Nipissing.
Source: The French Canadian Genealogist
Explore Northeastern Ontario and Plan your Trip!