La Vase Portage Historical Plaques
The three La Vase (Mud) portages, connecting Trout Lake with the La Vase River and Lake Nipissing, formed part of the historic canoe route to the west described by one despondent traveller as "an abominable marsh … knee-deep in mud and tree-roots."
The La Vase Portage is a 14 km route through unspoiled areas with beaver dams and swamps. The three portages together constitute a key link between the Mattawa River flowing east to Lake Nipissing and the French River flowing west into Georgian Bay.
In 2002, the La Vase portages became part of the Canadian Heritage Rivers System. Indigenous peoples started using these portages, which abound with archaeological treasures, at least 6,000 years before the arrival of the Europeans.
Directions: From the HWY 11/17 junction near Seymour Street, head east on HWY 17 towards Ottawa. After about 3 km (1.9 mi), follow the La Vase Portage signage until you reach a small parking lot.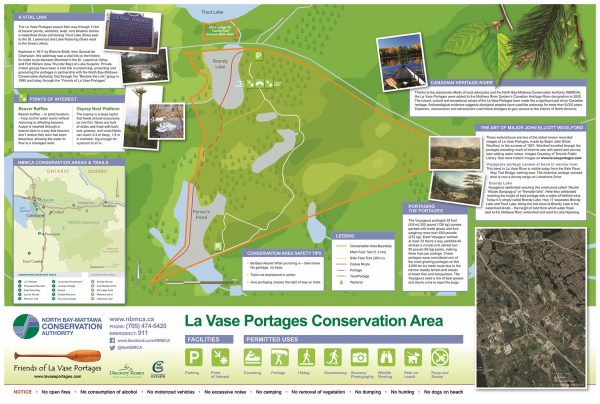 La Vase Portages Conservation Area Trail Map can be downloaded here.