Wooden Statues of Mattawa
Mattawa is a bilingual town in northeastern Ontario, just across the river from the province of Québec. It sits on traditional Algonquin Nation territory – if fact, Mattawa's name means "Meeting of the Waters" in the Algonquin language. The town is located at the confluence of the Ottawa and Mattawa rivers, and is the oldest settlement in the Nipissing District.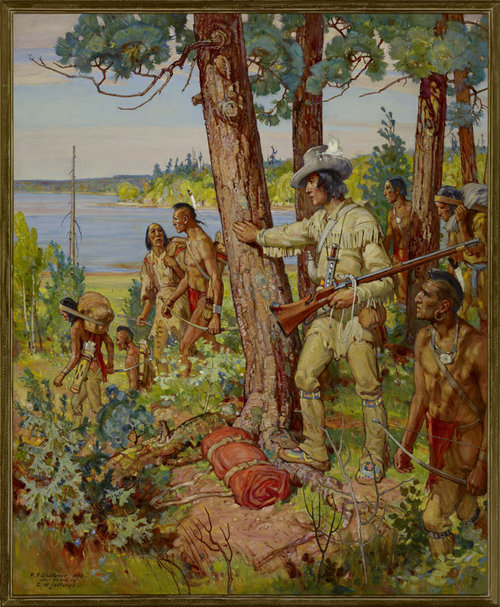 The first Europeans to set foot on Mattawa soil were Étienne Brûlé in 1610 and Samuel de Champlain in 1615. Brûlé was only 18 when he camped along its shores, and Champlain spent a few days there while he repaired his canoe. Mattawa's geographic position was of strategic importance to the Europeans – it was along the water route that coureurs des bois and voyageurs would take from Montréal to the western frontier (Lake Superior country) to collect furs. It was said that canoes travelling west up the Ottawa river turned left at "the Forks" (the mouth of the Mattawa) to enter the "Petite Rivière", before making their way to Lake Nipissing.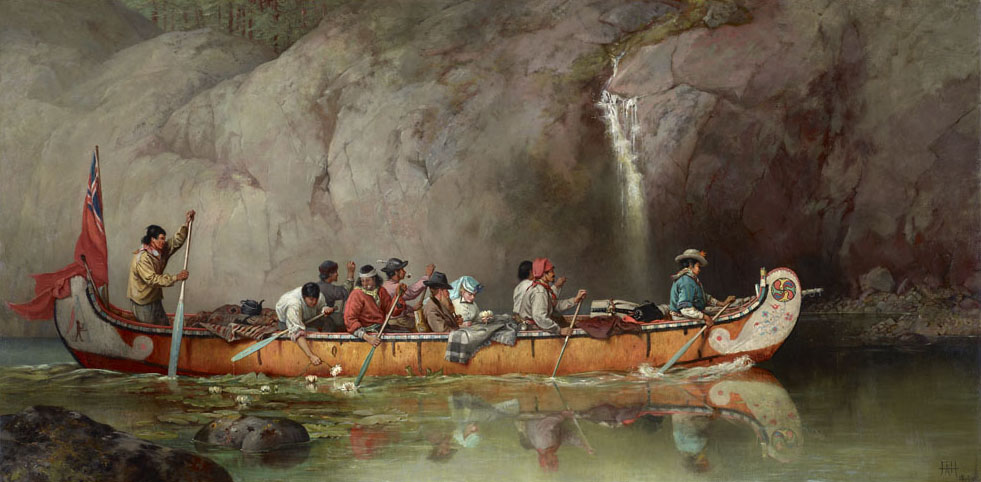 Just about every North American explorer of note at one time or another paddled up the Ottawa and Mattawa Rivers, en route to the hinterland of this great continent. They rubbed shoulders with missionaries, First Nations and colorful, local characters who became legends in their own right. Several other historic figures passed through the area, such as Jean Nicolet in 1620, Pierre-Esprit Radisson and Médard des Groseilliers in 1658, La Verendrye in 1731, Alexander MacKenzie in 1794 and David Thompson in 1812. Today, there are many statues around the town commemorating these explorers. The Mattawa Museum also features a large statue of Big Joe Mufferaw, a local folk hero.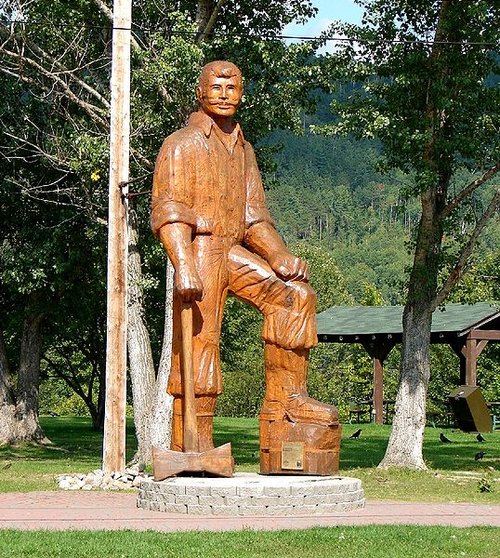 Big Joe Mufferaw : "Joe Mufferaw" was the anglicized name of Joseph Montferrand (1802-1864), a local lumberjack, athlete and folk hero. Many stories and tall tales about him exist, and it can be tricky separating fact from fiction. Big Joe achieved his legendary status when 3 books were published about his adventures starting in 1979. Adding to his fame was a song from Stompin' Tom Connors, which included the line "Big Joe Mufferaw paddled into Mattawa, all the way from Ottawa in just one day". Some claim Big Joe was also a defender of oppressed French-Canadian loggers. One story recounts that Joe was in a Montreal bar when he overheard a British army major insulting French Canadians. The major took a beating from Mufferaw, after which Joe supposedly yelled out "Any more insults for the Canadians?"
Samuel de Champlain, a famous 17th century French explorer, is the last statue as you leave Mattawa on Highway 17 eastbound. The Railroad Worker, which is at the junction of Highway 17 with Highway 531 to Bonfield, is the last statue westbound.